In this module, you'll learn how to choose a goal amount that you're guaranteed to hit based on the cost of the smallest version of your project you'd be happy with and your estimate of how much money you can raise (using the Fundability Calculator).
This module includes: 1 Video Totaling 9:55 Minutes, Minimum Viable Project Worksheet, Fundability Estimator
STEP 1: What is your Minimum Project Budget
The higher your goal amount, the higher your risk of failure, so you need to get your goal amount as low as possible. Download the Excel spreadsheet and calculate a real-world cost estimate of the least expensive version of the project you'd still be excited about doing.
STEP 2: How much can you raise?
Click Here to access the funding estimate spreadsheet. In order to use, you will need to make your own copy by clicking "File->Make a copy" or "File->Download as" once you are in the spreadsheet.
STEP 3: Is Your Minimum Project Budget Lower Than How Much Money You Can Raise?
Warning! If you get to this point only to discover that your Funding Estimate is LOWER than your Minimum Project Budget, then it is time to take a step back and reevaluate. Proceeding under these conditions is likely to lead to campaign failure!
STEP 4: Create Flex Goals To Get To Your 'Best Case' Goal Amount
Your Minimum Project Budget Should Equal Your Official Goal Amount. As long as your Minimum Project Budget is the same or lower than your Funding Estimate, you should set the campaign's official goal amount to match your Minimum Project Budget.
Use One or More Flex Goals To Reach Your 'Best Case' Project Goal. If all goes well, you'll hit your official goal early in your campaign. You'll need to be prepared to announce your next flex goal so you can keep potential backers engaged by letting them know you still have lots of fundraising left to do.
Announce New Flex Goals With Campaign Updates & Place Them at The Top of Your Description. It's hugely important to communicate your flex goals to the world via social media, email, one-on-one communications, and especially your campaign updates and at the very top of your campaign description in large title text.
Use Specific Numbers and Tangible, Authentic Descriptions. It's very important that you choose and communicate flex goals just as carefully as you crafted your entire campaign. Each new flex goal has to have purpose, authenticity, and feeling behind it.
An Excellent, Real-World Example from an L&R Campaign
You are responsible for coming up with your Flex Goal levels which are typically in $1,000 to $5,000 increments above your official goal depending on your needs. Once you have done that, let's take a look at precisely how to show your Flex Goals in your campaign.
Be OBVIOUS and Crystal Clear, your Flex Goal information should go at the very top of your campaign just below the video.
Insert a crystal-clear headline in larger font with bold and/or italics that says what you are doing.
Embed a new, short 30-60 second video update that says "Thanks a ton! Here's our next goal. Here's what we're trying to accomplish". NOTE: This doesn't REPLACE your main video, it is embedded just below it. It's a simple iPhone video that takes about 2 minutes to do!
Bullet out your remaining flex goal levels. Each one should communicate the desired total amount raised (not the desired additional amount) and go into specifics about the flex goal's benefits to the project (and, therefore, the viewer). Use vivid language that will help the reader imagine the benefit or understand the importance.
Jim's campaign to the right is a great example. Below is another example of how you might bullet out your Flex Goals.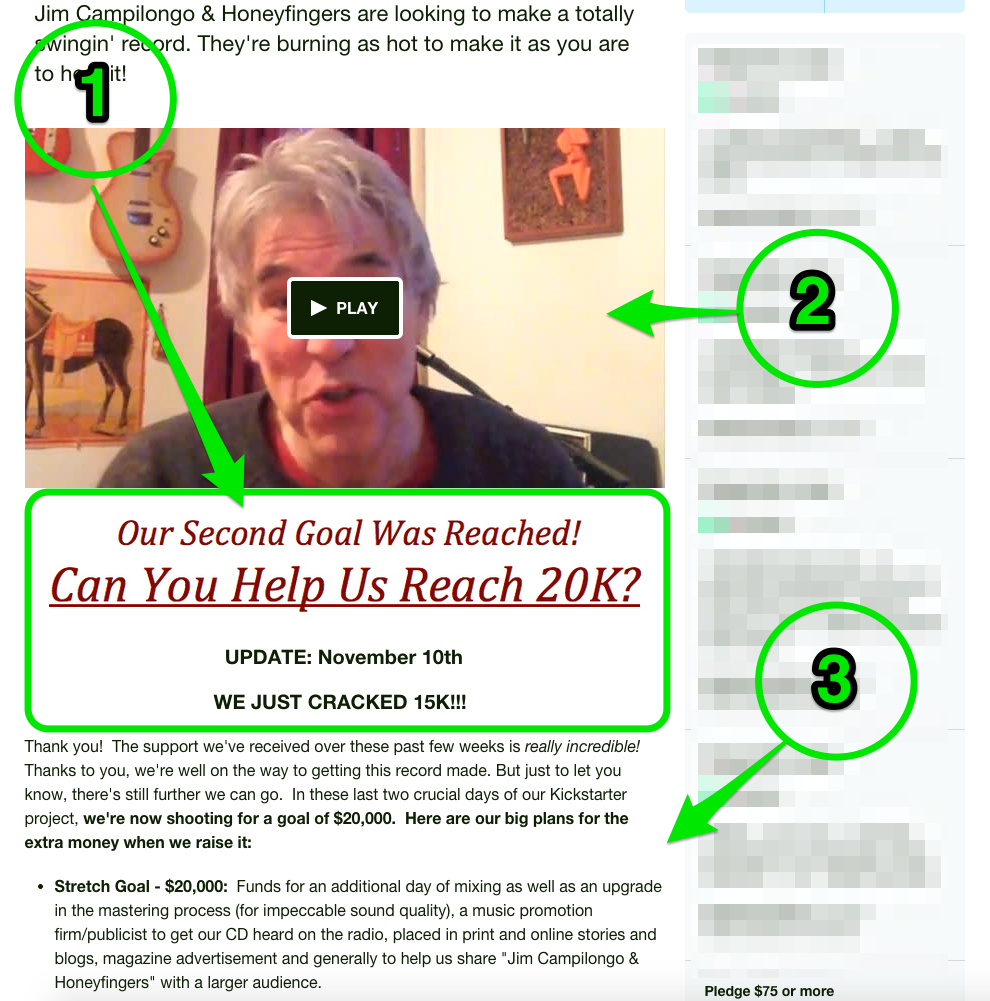 Flex-Goal Formatting Example:
We passed the first goal! Thanks to you I'm making my CD. But a proper campaign for the CD's release will cost about $15,000. Here are my big plans for the extra money we raise.
Flex Goal #1 – $10,000: Time, care and ultimate quality… These funds will be used solely on studio time, engineers, mixing and mastering. The amazing thing about this is it's where you can absolutely slam-dunk the recording process and produce a product that will make ears perk up and bring a deep warmth to your musical soul. It is really a game changer for the project.

Flex Goal #2 – $12,000: I want to make a full-blown MUSIC VIDEO! It will cost about $2,000 to make a themed video for one of my singles – this would really be a career launcher.

Flex Goal #3 – $15,000: I need a music promotion firm to get my CD heard on the radio, place stories in blogs and papers, and to help me share "Milk & Honey" with a larger audience.
Flex Goal #4 – $18,000+: I will plan a tour to perform in cities near you with my whole band! The travel costs and expenses of touring add up fast but performing these songs live would be an incredible experience and help me build my fan base but I can't do it without you.
Everything helps. This job is not easy. The business is unforgiving, and it takes a LOT to be successful. Please join me on this journey! I will be so grateful for your support.
A NOTE ABOUT FLEX GOALS & WHERE YOUR PSYCHOLOGY MAY BE…
By the time you get to Flex Goals, your campaign will likely have slowed down. This is extremely normal and should not trouble you. It is really an opportunity to get organized again.
Do not back down on the personal outreach! This is the time to systematically follow up with people you've already contacted.
Don't be paranoid that they'll get annoyed by you following up. People are busy and they will all appreciate a follow up. Something like "Hey John! Just wanted to keep you posted on my campaign. We've hit our first goal and I'm now moving to bigger flex goals. Check it out and let me know what you think! Any help is appreciated. Thanks!"
People who completely intend to pledge may still need to be contacted 3 times before they actually get around to doing it. (Marketing literature suggests up to 7 times before people take action.)
And remember, the last 3 days will be the most important. This is where you'll get a large bump in pledges and you may even see a quarter to half of your entire funds come in these last few days. Again, use this period to follow up with everyone who hasn't pledged (yes, a third time if necessary). Again, they will appreciate the reminder.