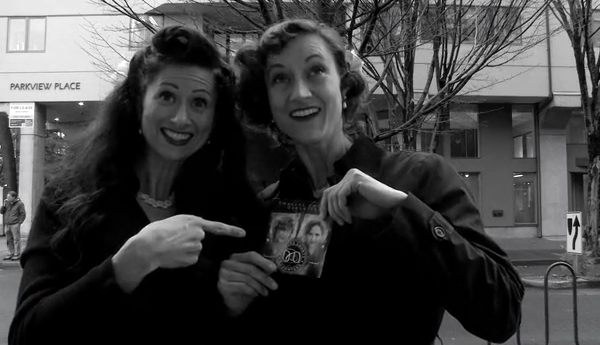 They're a bit of a throwback, no doubt, and the Douglas County Daughters are some very smart, well-spoken women when it comes to their Kickstarter campaign.
And though they left for the West Coast, they still exhibit the sort of ample creativity needed by their forebearers in Douglas County, Nebraska that is necessary to make good things come from limited resources!
Use Events To Generate Buzz and Awareness
"Marketing" your campaign is always a topic of interest.
Many artists start out and/or end with a live event to promote and bring awareness of their campaign.
This is important as it leads to excitement and momentum that you can capitalize on as you move through your campaign.
From our research, we knew it would be foolish to launch a campaign and think we could simply sit back and watch the money roll in.  We also knew there was a limit to how much we could engage our fan base through social media and e-mail.  We brainstormed ideas and decided that a good old-fashioned telethon variety show was an excellent model for a live event that would generate interest and support for our cause. ~ Mollie Ziegler
Here is a detailed list of what the Douglas County Daughters included in their live events:
Donation tables near the front door where guests could give cash (which we later converted to a lump sum on Kickstarter)
A laptop where guests could log in to Kickstarter and pledge
Friendly donation assistants
Reward "menus" on every table with a QR code, so guests could give right at their seats from their smart phones
Performances by DCD and special guests
Drawings for prizes donated by local businesses and our fans (for every $5 given, donators could get a chance to win)
Tip: Plan a live event to raise awareness of your campaign. It can be a simple show or something more elaborate but make sure that people can pledge on the spot and also distribute cards or flyers that people can take with them.
Write Out A Detailed Plan
It's easy to have a plan.
But if your plan lives in your head, is vague, or isn't referred back to along the way, the probability of missing crucial steps rises dramatically.
Not only might you miss steps without writing down your plan, you might simply SKIP OVER the difficult steps because of fear, laziness, or procrastination.
Writing out your plan will also invoke the powerful psychological principle of Commitment and Consistency as defined by Dr. Robert Cialdini, which you can read about here.
By writing out your plan, you are committing and once you have committed, you are more likely to follow through.
We are fairly certain that the key to our success was researching, creating, and executing a very detailed campaign plan.  We included basic things in our plan, like a budget and a timeline, but we also put a lot of thought into how best to rally our particular fan base. ~ Mollie Ziegler
Tip: Write out a detailed plan. It will help you organize your thoughts, motivate you to take action, and help you see your progress.
Educate Your Fans About Crowdfunding & How To Pledge
Several artists over the last year have pointed out that your average person still doesn't know much about crowdfunding.
And it follows that if people don't really understand it, they are less likely to pledge to your crowdfunding campaign.
We discovered that although crowdfunding is becoming well-known to creatives who seek donations, it is still completely unknown to most potential donors… In our e-mail newsletter, on Facebook, and in our Kickstarter campaign description, we included very basic step-by-step instructions.  Also, before our campaign started, we encouraged folks to visit the Kickstarter website and familiarize themselves with it.  ~ Mollie Ziegler
Tip: Make sure that your family, friends and fans understand the concept of crowdfunding and why it's important in your career. Supply them with basic, step-by-step instructions on how to pledge.
Project Takeaways
Generate buzz, excitement, pledges and momentum by planning a live event around the launch of your campaign.
Spend the time necessary to write out a detailed plan. This will ensure that you follow through with important actions AND will help motivate you.
Don't assume that everybody knows what crowdfunding is, you'll surely lose a few backers in the process. At the very least, be very explicit about the steps necessary to complete a pledge.