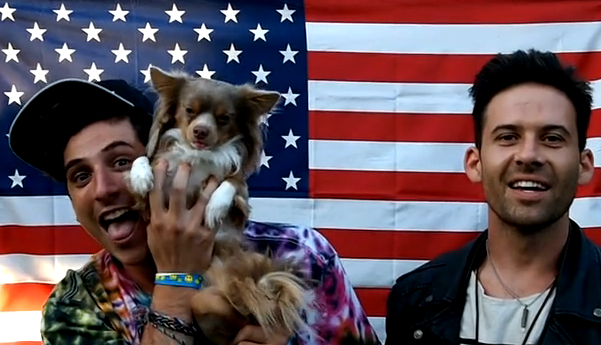 I am blown away by the subjects of today's review.  And to think I almost missed it…
The Limousines kickstarter is a powerful illustration of a Purpose Worth Backing.  Matter of fact, they did such an excellent job, that I am going to try very hard to keep my yap shut and just let their body of work do the talking!
This is a very strong follow up of yesterday's review of Teenage Chopshop, in which Levi pointed out this very important element ~ purpose worth backing.
[divider top="0″]
YOUR Purpose Worth Backing
The Limousines are similar to most other bands out there; making a living doing music is a HUGE challenge fraught with many obstacles.
They have also been on a label which proved as much or more of an obstacle than the simple realities of independent music.
They are sick of things standing in the way of their artistic vision…
Us vs. Them
A classic dynamic, yet very true.  The Limousines let this course through their project description:
The Limousines:  we owe most of our highs to you guys, our friends and fans – We owe almost all of our lows to the music business, more specifically record labels.

no record label, just us and you.

We're not [ready] to start a fight between us and record labels, we're just dead set on leaving them behind.

we could easily get another record deal, but that would just mean putting our band, our lives, in the hands of people who are less passionate about our music than we are
We Can Make This Happen
Now, what is there to do about it?  The Limousines leave no doubt:
The Limousines:  We believe closing the gap between bands and fans is the future of music

with your help we can be free to take control

We've got a lot to prove with Hush, and we're glad we have you to help us make it all happen.

It starts with you… And it never ends.

We Are Proud To Be Partnering Up With You.

When you become a backer of this campaign, you're showing your support for a great new way of doing things.
A Clear Call To Action
You are in the Driver's Seat
The Limousines bring the fan into the mix with no doubt.
The Limousines:  We're here to partner up with likeminded people who believe in independent art, people who respect an artist's right to create what's in their heart.
Here is What To Do
The Limousines:  we need you to become a backer at any level you can manage, but just as importantly, we need you to tell everyone you know about what we're doing here!  Click the like button on this page, post links to this campaign on your Facebook and Twitter, show all your friends this project and don't let up until the campaign is over, that's how we're going to make this project a success. We've got a pretty cool story here, this chapter should be fun!
Project Description Images
Before we get out of here, I also need to point out the excellent use of images in the project description area.
Pictures to perk up the text
Graphics to highlight and set text apart such as "with your help we can be free to take control"
photos of rewards
Remember, images increase conversion rates…
[divider top="0″]
The Takeaway
It is up to you to connect your fans to you and what you are trying to do.
The Limousines give us a brilliant example of communicating a Purpose Worth Backing and connecting it to a clear Call To Action.
No matter where you are at in the creative cycle, keep your Purpose in mind.  Let it inform the decisions you make.  And let it lead your fans to action.
Finally, there is just one more quote from The Limousines that I want to share.  As a former band guy, I remember feeling this exact sentiment as my band straddled the line between chasing our dream and meeting our day to day needs.
As an artist, I'm sure you can relate, too.
The Limousines:  We're just shooting for middle class. We're artists first, but we're also two guys running a small business. Almost every dollar we make playing live shows and selling our music goes right back into the band. If you've ever been in a band you know there's always something to pay for, from buying equipment to all kinds of insurance, shooting music videos, fixing the van and on and on…