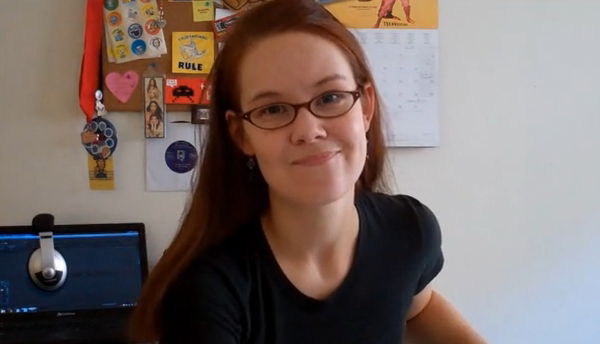 Ever wonder what having huge, giant balls will do for your Kickstarter?
This girl knows…
And I am laughing my head off b/c I just said a girl has huge, giant balls!  Pass the coffee!
Today, let's talk about Stretch Goals.
In my mind, these differ a little from Flex Goals which are typically a multi-tier goal system that you communicate right away in the project.  For example, prior to releasing your K$, you include in your project description:  Official Goal = $4,000 to record the CD, Unofficial goal = $7,000 to record, mix, master and reproduce.
A Stretch Goal would be a goal that is introduced while the project is in full swing and has hit all prior goals, often at or near the end.  For example, at day 25 of your 30 day K$, you hit your goal of $5,000 so you introduce a stretch goal of $6,500 so that you can also fund a music video.  Maybe you offer an additional incentive that you will include a rainbow unicorn sticker for each backer.
The real difference between a Stretch Goal and a Flex Goal has mostly to do with timing.
---
KNOW WHAT YOU WANT AND BE READY
You can throw crap at the wall and hope it sticks if you want.  After all, the premise behind a stretch goal is that you are already funded, so perhaps it isn't a big deal one way or another.
Buuuuut, if you are considering it...
Stretch goals are a funny thing.
I've seen a few that have done well and I've seen a few that have done nothing.
My overall impression is that the ones that do well have a purpose that is communicated well through the project.
Thus, if you are contemplating a stretch goal strategy, make sure you work this out beforehand for best odds of success.
---
A BALLSY EXAMPLE OF GOING FOR IT
Nicole/Hello, The Future! knew she wanted to do more than simply record Geek Girl.
After reaching her Geek Girl goal of $6,000, she immediately launched a stretch goal of $7,000 with the extra grand making a music video of The Giant Robot Song.
She hit $7,000!  Here is what she had to say about that pivotal moment:
Nicole:  Going all-in on the Firefly EP stretch goal was a good idea. I passed my first stretch goal (the music video) with 10 hours left on the Kickstarter.  This meant I had the opportunity to make a second stretch goal.

I had two options:

Make a low-value stretch goal that would almost certainly fund, like a cover song for $200.
Make the Firefly EP that everyone has been asking me to make.  (After the Funhouse show, literally everyone in the merch line asked me where they could buy my Firefly songs.  Which meant I had to disappoint them all.)

So I went for the Firefly EP stretch goal.  And it funded almost instantly.  People increased their pledges to make it happen.  Keep in mind that this is for an album that will not be included as a Kickstarter reward; this will be an album that I will release for sale in 2013.
Before we leave this, I just want to point out that Nicole went for it.  She did not worry about asking for more money or coming off as desperate or pandering or any of that.  She just went for it.
It just goes to show that if you provide substance and value, your fans will rise to the occasion.
---
THE TAKEAWAY
If you have something you want to do with your project but are not sure that you want to include it in the official goal, a stretch goal may be for you.
Be clear about what you want to accomplish and unapologetically offer the opportunity for your fans to come through.