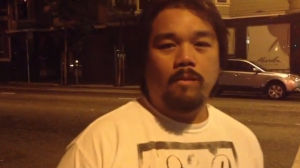 What we've got here is a bunch of burnt-out rockers that are not done rocking! They've come together from Los Angeles and San Francisco… They have been doing it for a long time… They are sick of being broke… They are not sick of rocking… And they do rock… So, they put together a Kickstarter campaign to "act as [a] surrogate indie label"…
+ STEAL THIS

The one clever phrase
Strong sense of self
Craft personal communication

– FIX THIS

Clear Call To Action
Use Low Road/High Road strategy for Goal
Appropriately price live show
// VIDEO (7 min 59 secs)
Whew, this is a long one. As somebody who watches several of these per day, it was a turn off at first. But the more I watched, the more I got sucked in and the more I realized that my being in a hurry doesn't matter! Yes, they could shorten it up here and there – easily by 25-30%. But what they DID do is really convey their strong sense of self. They are old fashioned rock n roll.
To convey this, they used good camera work coupled with a low-fi feel. They developed a small story line and they mostly used footage of themselves from places they would actually be in a manner that they're actually there. Coupled with some live footage that was pretty sweet, I was a fan… by the 5 minute mark!
// PACKAGES
First off, one of my favorite rewards yet: your very own City of Women commentary track for a film of your choice. From "La Dolce Vita" to "Troll 2″…we'll do it!
Second, another example of a band doing the "All of the Above plus…". Bands, please don't do this! Take the time and spell it out. Don't make the fan do the work of putting 2 and 2 together no matter how tedious it may seem.
Last, the prices seem a little high in general. According to Kickstarter, "it's a good idea to stay reasonably close to real-world cost." However, they have many backers for their various levels up to $250. What they DON'T have is many backers at the $500/$1000 level. And note that their "play a show" is at $2000. By lowering this amount to a more palatable $1000 or maybe $1500, they could have perhaps coaxed some backers into this level and significantly affected their overall funding.
// PROJECT DESCRIPTION
The one clever phrase
This is were City of Women really got me to stop long enough to look.
City of Women humbly asks friends & fans to act as surrogate indie label. Candlelight dinner may be included.
Fantastic! And consistent with their old fashioned rock n roll identity. Artists, if you are putting together a Kickstarter, spend some real time thinking about the language you use here. This is "copy" – as in copywriting for advertising. Even if you spend the rest of the time writing about spending your hard-saved cash on a spleen transplant for your dog, just really do this portion justice!
As you may expect if you've read any of my previous posts, I would love to see a crystal clear Call To Action. Who, what, when = You, Pledge, Now…
// GOAL AMOUNT
The goal amount of $9000 will certainly accomplish plenty. They did say it is bare minimum. They could have used a Low Road/High Road approach and set an unofficial goal all the while explaining to fans what the extra money above the official goal could do for the project.
// CIRCLE OF INFLUENCE
Alwyn, the guitar player, gave me some great feedback on his circle of influence. He said that out of 450, he emailed 180 people. He also messaged most of his 690 Facebook friends all of whom are people he actually knows. Concerning his communications, he had this to say:
My method in using my mailing lists is to subdivide people into the real-life social circles they're a part of. That way I can personalize the message to the group with any idiosyncrasies and inside jokes that may be relevant to just them. Using this method I've been able to connect better to individuals and make it feel less like an impersonal group spam plea. Examples of groups would be former co-workers (who may or may not still work together), current co-workers, social circles, old high school and college friends, former housemates…I've grouped every musician and artist I knew on one list for that "please help, fellow artists!" message.
When I ask him if it paid off and was worth the extra effort, he replied:
Oh I think personal communication most definitely paid off. It really didn't take all that much extra time or effort to do. The messages were still very general, with just a couple of quips that only that particular crew would know. For example, one mailing group I made was my high school and sometimes childhood friends, and besides a few inside jokes my coup de grace was to mention that they all saw me perform my first rock show ever at a high school talent show. I even took it one higher level of granularity by saying they all saw me perform my first ever guitar solo in public! Nostalgia and a curiosity for what I'm currently doing musically began brewing in the ensuing e-mail thread, and in the end it was that group that pushed the fundraiser over the top to make it successful.
All in all, this is fantastic stuff. Alwyn's efforts at personalizing communication really paid off. In the end, we all know that personal connection is what this is all about.
// THE TAKEAWAY
Overall, I really admire these guys for being true to their artistic expression and to themselves. You can see that by doing this, they felt empowered to take the risk and reach out to their fans. All of this in spite of the fact that their biggest fear was the possibility that they just wouldn't be well received.
Bottom line lessons from City of Women: know yourself, express yourself, and use that to reach out to your Circle of Influence personally.