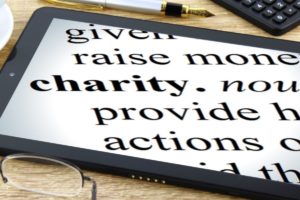 When planning a crowdfunding campaign, most people consider ways in which they can increase traffic and increase pledges. One idea that often comes to mind is working with a charity. Heck, PledgeMusic even made non-profit donations a built-in part of the platform.
But will working with a non-profit make any difference?
CASE STUDY #1: DONATING $1,000,000 TO CHARITY
In 2016, I worked with Terra Naomi on her Indiegogo campaign. She had some solid assets going into the campaign including a mailing list of about 7,000 people and a prior campaign that had raised around $30,000.
Terra was ambitious and creative. She wanted to raise $100,000 for her campaign and she knew it was going to take hustle and good luck. One of her more interesting ideas was to set up a challenge for her campaign.
The challenge: if she could raise $100,000, then 10 people she knew would each donate $100,000 to charity for a grand total of $1,000,000 in charitable contributions.
Most campaigns who donate to charity do something around 5-10% of what they raise. Terra arranged to have 1000% of her funds donated!
If there was ever a campaign to test whether or not charitable donations matter to your audience, this was it.
And I'll cut to the chase. It didn't make any difference.
The press didn't care. Backers didn't care. The cold, hard truth is that people who back music crowdfunding campaigns care about the artist almost exclusively (and that's not a bad thing).
CASE STUDY #2: CROSS-PROMOTING WITH A CHARITY
In 2017, I worked with Jay Stolar on his PledgeMusic campaign. We'd hit $50,000 in 2013 and were looking forward to duplicating the effort.
This time, we not only had his mailing list, Jay had garnered over 500,000 youtube views on a video for Love is Louder. Jay was also producing content and speaking for The Jed Foundation. He planned to donate a portion of his campaign to Jed and would receive promotion from them.
So, how did it go?
Ultimately, the people who pledged to the campaign were from Jay's circle of influence who cared about what he was doing. Traffic from cross-promotional platforms was minimal and did not impact the campaign.
IS WORKING WITH A CHARITY THE TRICK?
In short, no.
Working with a charity should be a decision from the heart not from a marketing or financial angle.
You should make any charitable donations that make sense to YOU. If you want to donate a portion of your campaign proceeds, then by all means do it as long as this is what is in your heart.
One problem I have seen with this idea is that the campaign's call to action gets confusing.
Instead of being clear about the campaign's need and asking directly for help to meet the need, the campaign ends up pushing the campaign's angle AND the non-profit angle. This dilutes the call to action and can confuse people. Ultimately, the campaign and the non-profit are almost never related beyond the campaign creator's interest.
Overall, your backers aren't really going to care about the charitable aspect of your campaign. That is harsh and blunt but it is true. They might care a little bit or think "gosh, that's nice," but it won't influence anyone's decision about whether to donate or how much to donate.
If you are trying to donate because you hope that your campaign will benefit financially, then don't do it. Charitable elements do not contribute to crowdfunding campaigns. It won't drum up more business or support for your campaign or for the charity.
So, if you decide to do it, do it for the reason that you believe in it, not because you think it will raise more money.
If you are interested in what WILL get you more backers and pledges, take a look at my Advanced Crowdfunding System. It will help you focus on what matters in getting results and avoid the ideas that seem to make sense but don't ultimately contribute to your campaign.