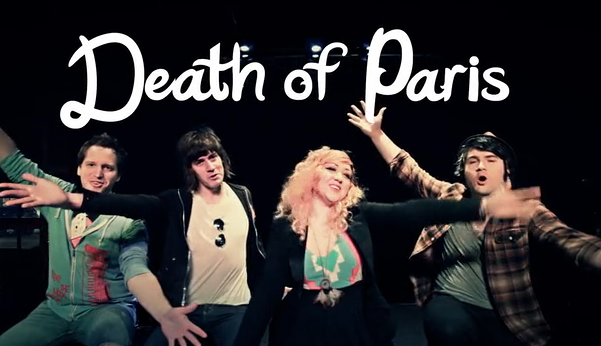 This profile is likely to be a long one ONLY because of all the crazy rad value there is to find here!
First, Death of Paris (DOP) vocalist, Jayna, got back to me and confirmed what I already knew:  this band has one hell of a Purpose Worth Backing.  We are going to look at it pretty specifically (read Levi's profile to know why it is important).
Second, there are some sweet rewards packages here, so we'll touch on those too.
[divider top="0″]
PURPOSE WORTH BACKING – SPECIFIC EXAMPLES
This project is already on my short list of all time faves for one simple reason:  their Purpose Worth Backing absolutely slaps you across the face and leaves no doubt.
But first, read what Jayna has to say about this.
Jayna: …bands should really pay attention to getting the importance of their purpose across. To potential backers and friends alike, people need to know from us all in one place who we are, what we've done and why we need this – it shouldn't just be "Hey we're doing this, give me your money," we don't just want people to back this, we truly want them to be a part of it.
Purpose All In One Place
Check out the storyline beneath the video:
We've always wanted to make music that would change people's lives. With your help & support, this record could change everything.
Check out this line from the project description:
we abandoned our college degrees to go after what we truly want to do in life – make music and prove to everyone we meet because of it that you don't have to settle for anything in life if you feel you're meant for more.
Playing The Nobody Believes in Us Card
I love reading Bill Simmons (formerly known as The Sports Guy) columns over at grantland.com.
He is always talking about the "Nobody Believes In Us" method of motivation in sports.  Obviously, this is where you get people fired up by telling them that nobody believes that they can accomplish what they are trying to accomplish.
Well, check this out:
We've always thought of ourselves as underdogs – and somewhere along the way you've started believing in us.
Maybe it's not straight up NBIU, but DOP is definitely saying 'look, you believe in us even when nobody else does.  let's join up and prove the bastards wrong.  down with the man!'
Right?
Part of the Team
And just so there's no doubt as to who is on the team:
we'll be trying our damnedest to make a stop in EVERY BACKER'S CITY so we can personally shake your hand, hug you, squeeze you, high-five you and thank you for quite honestly making our dreams come true.
That, my friends, is a schooling on purpose worth backing.
[divider top="0″]
KICKSTARTER REWARDS PACKAGES
First, my only criticism:  list out everything in every package.  Do not use "+all of the above" or "+MINI DOP PACK".  It gets confusing to people.
But there are some cool rewards that I haven't seen a whole lot of.
I will list the remarkable ones out real quick like:
$25 – play tambourine or cowbell on stage for a song…  SOLD OUT!
$30 – a 5 minute video of DOP discussing subject matter of your choice:  butterflies, pomeranians, pyrotechnics, spaghetti, WWII British crime novelists…
$50 – old school MIXTAPE (or cd) made by each member including handwritten notes on favorite songs
$75 – handmade DOP jewelry
$100 – feed a homeless man a hot meal at Waffle House and get a picture with him
$1000 – Bryan's beloved Ghostbusters T-Shirt plus a bunch of other stuff
$5000 – your name tattooed on Bryan's ASS CHEEK
It is hard to say how much support some of these will garner but I'll be checking back to see.
And I'm assuming the homeless person will be down with what's going on.  Kidnapping a homeless person, even if just to take them to the Waffle House, is clearly exploitation.
I just wanted to highlight these because they are super creative and we have seen creative rewards do very well in many projects assuming, you know, that they actually have some value to them.
[divider top="0″]
THE TAKEAWAY
Now that I've distracted you with the rewards business, let's get back to the big point here:
NAIL THE PURPOSE WORTH BACKING LIKE A MOFO!
You don't need an identical purpose, but take a look at how DOP communicated their purpose so incredibly clearly and be sure that you do the same.