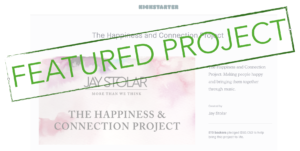 A common question I receive is how to be a featured project on Kickstarter, Indiegogo, or whichever crowdfunding platform you use.
Hi Ian. I have a question for you. After you've made your crowdfunding video, how do you get seen on these platforms because there are so many videos. How does is get to the front page? -Sean V.
The nuts and bolts: platforms have algorithms that place projects/campaigns based on performance, similar to how Google and Facebook have algorithms for placement. Thus, in order to gain placement, you must generate momentum on your own by pulling in backers in a short amount of time.
Featured Projects Demonstrate Momentum
So, how do you create momentum?
Answer: the pre-load strategy!
Hopefully you have seen the pre-load strategy which is part of my 3-part mini crowdfunding course (anybody can receive this for free by [thrive_2step id='8565′]clicking here[/thrive_2step]). The pre-load strategy leverages connections you already have to make quick, early progress.
When the people whom you know respond in an enthusiastic way, then you increase your chances of being noticed by the algorithm and being a featured project on the platform's prime space.
Warning: when you launch your campaign, you will be contacted with several offers to promote your campaign. These offers sound tantalizing but will do nothing for your campaign. Don't waste your money.
This has everything to do with type of traffic and conversion rates. Bottom line is that traffic (if any) will be random, cold, dead traffic that will convert at a dismal rate: closer to 0% than to anything else. And 0% of anything is zero.
Project Exposure and What It Gets You
How much does being a featured project and getting good website placement help?
Unfortunately, not as much as you'd think.
I have had dozens of campaigns who I've worked with chosen as a Kickstarter Staff Pick or New and Noteworthy campaign. These campaigns raised amounts ranging from $6,000 up to $32,000. And NONE of them received a funding bump upon being designated as a Staff Pick or New and Noteworthy.
And it wasn't just something we did or didn't do. The campaigns got the placement but while campaigns for gadgets, tech, and gaming have some ability to turn cold traffic (people who have never seen you before) into backers, the task is darn-near impossible for music and other creative genres.
Consumers do not make decisions about music the same way in which they make choices about other consumables. As an Economist, I would characterize the music marketplace as pert-near perfect competition. This means that there are lots of sellers (musicians) whose product is easily accessible. In music, not only are there literally millions of buying alternatives, the alternatives are relatively cheap, if not free.
I could continue at length but, suffice it to say, people can acquire music so easily and cheaply that they can afford to be very choosy and protective of their money and time. Asking someone who does not know you or your music to invest in a project that they cannot even hear until some indefinite point in the future is not a winning strategy.
Oh, and I no longer even bother noting when a campaign is a featured project because it does not translate into results. And results are what we are looking for!
A Winning Strategy for Campaign Promo
Okay, so being a featured project will not likely get you what you want.
What is a winning strategy? I have written about this extensively (check out this article I wrote for CD Baby for a better understanding). Basically, you need to ask the people who DO know you or your music and you need to do so in a way that is genuine and authentic, not annoying and self-serving.
Most people who hear this the first time are not real thrilled with my answer. It sounds overly-simple, like duh-gee common sense.
However, the magic lies in the way you do it and that is where most people take a wrong turn. Understanding the assumptions, thinking, and numbers behind my advice is where people can increase their campaign funding by two, three, or even four times as much. So, I would strongly encourage you read this article on campaign promo.
In the meantime, if you are curious, the Advanced Crowdfunding System will guide you through each step of this process from message to momentum for your campaign and everything else before and after!