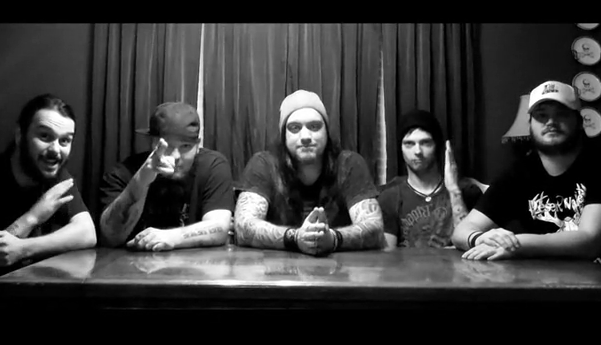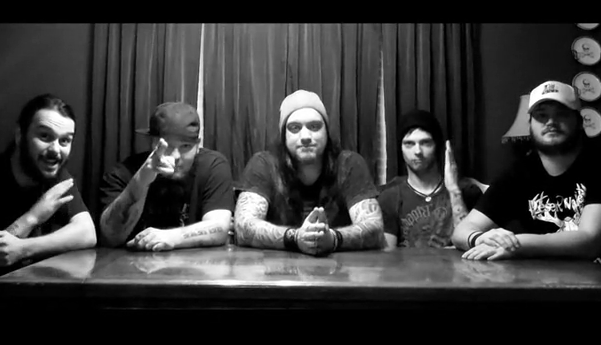 You never know if the musicians you encounter are going to be the whimsical, artsy type that don't care for the details of business or if they'll be smart, intellectual, business-oriented people in addition to being good at music.
I have been lucky enough to visit with Sam from The Sammus Theory a few times and, in his case, it definitely seems to be the later.
Today, we are going to look at a few specific tricks and trials to help fund your Kickstarter project.
---
HELP FANS BECOME BACKERS
The Sammus Theory set up a landing page on their own website that explained a little bit about what Kickstarter is and also gives a step by step account of how to pledge.
Sam:  Half of the people that pledged went through an intro page I created on our website as well.   Basically, it explained what Kickstarter is and how it works.  There were also step by step instructions with screenshots to show exactly how to pledge so those who had never done it were comfortable with the process before they even got to the Kickstarter page.

For some reason, people are less likely to do something when it's unfamiliar to them.  Think about when you had to go to the DMV the first time - you probably had a lot of questions of what to do or where to go.  It's the same way on the internet for most.  Questions on what to do or how it works = probably not going to do it.
Even though we may take Kickstarter for granted around here, there are tons and tons of folks that have no idea what it is.  This is a good call.
---
IF AT FIRST YOU DON'T SUCCEED, BUILD YOUR OWN FUNDRAISING PAGE
This is flat out fascinating to me...  they built their VERY OWN VERSION OF KICKSTARTER right on their own webpage.  Click here to take a look!
Remember, they did meet their official goal but they had a few more flex goals that they did not achieve so they are definitely looking to do more fundraising.
As Levi discussed in his review of A House For Lions, a band doesn't necessarily need Kickstarter to crowdfund.  It just happens to be a more or less leading platform at the moment.
But how interesting is it to do a Kickstarter first and then just keep going with it?  I am excited to watch this play out over the next few months.  It isn't exactly clear that it will be a giant success but, then again, the odds of raising more $$$ are certainly higher when you are actually trying!
Let me give you Sam's take on the overall plan...
Sam:  The holiday season killed a lot of the momentum as well as setting an official goal that was only one third of our $30,000.  Everyone sighs with relief after hitting the Kickstarter goal and everything slows down.  There's not as much pressure so it falls on the priority list.  We also launched at an inopportune time.  Thanksgiving = a lot of time off and tight money.  Christmas = a lot more time off and tighter money.  We realized this, so we're pacing ourselves with it at this point.  We reached $14,350 before 30 days were up which is an amazing running start at this.

We've made a page on our website with very similar format (for familiarity) where our fans can get multiple pledge packages and continue to support through the tracking process to help us reach our final goal of $30,000.  I built it from scratch using CSS and HTML.  I mimicked the Kickstarter page layout so nobody had to relearn how to pledge.  I constructed each pledge button in paypal and run it through there - they take a smaller percentage than Kickstarter too (2.9% with .30 per transaction as opposed to 5%).   There's still plenty of time and we plan on hitting it 🙂

I'm very pleased with how it turned out.  I feel like we took the proper planning time to make sure it was laid out right, so there's really nothing we'd change with how we did it - other than holiday season timing.  But we've got that covered now so all of our fans get an opportunity to be a part of this new album experience with us.

We'll be leaving it up through March - until the day we officially pay for the replication of the album.  We'll just be bouncing it through our social media sites once a week or so throughout that time just as a reminder.
---
A CLINIC ON WHAT A GOOD RELATIONSHIP WITH FANS CAN DO
Before we wrap this up, I just want to point out what a MONSTER first few days these guys had.
If you look at their Kicktraq, you can see that they raised over $9000 and $1000 on their first and second days for a total of $10,000 in 2 days.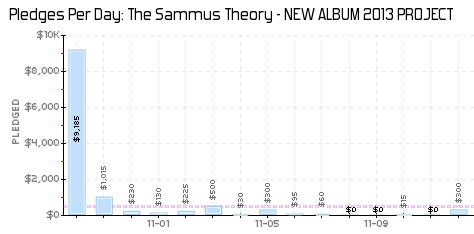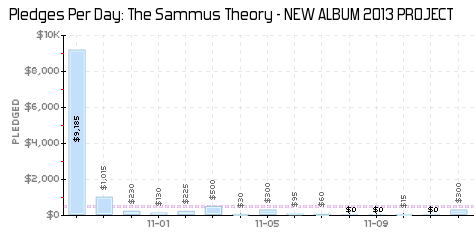 They funded a $10,000 goal in 2 days!
I think that is baaaaaad ass.
I had to ask Sam how they did it.
Sam:  Honestly, we have a great relationship with our fans.  We've very transparent with what we do so we can make them a part of it all.  I try to help do voting contests, occasional reposts, etc to give back and return the support so it's not one sided.  I feel like that's a huge reason it took off so well the first day.  It's not only OUR success, but it's THEIRS too.  I feel like the first 48 hours was this mission to them to reach $10,000.  It was so amazing to see so much support in such little time.
---
THE TAKEAWAY
The Sammus Theory shows us that we need to have a relationship with our fans.  This can set up your project for a HUGE start and can set you up for long run success.
When it comes to the pledging, help get them to your project and through the backing process in a very explicit manner.  This will help get them through any lack of familiarity.
And let's all keep watching to see how the self-launched Kickstarter sequel goes.  Could be a great tool if done right!