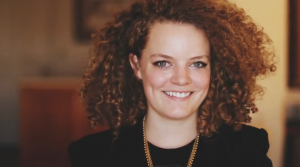 Want an example of how "Know thyself for epic success" can go to work for you? Look no further than Jenn Blosil. She not only knows herself, she knows how to market the parts of herself that will leave you wanting to know her too!

VIDEO (3 min 45 secs)

Weave the story with just enough detail…
This is a great example of revealing just enough in an intriguing way.  First, Jenn sets the story up in the beginning by giving some historical background on her family and how she became the only Jenn Blosil in the world.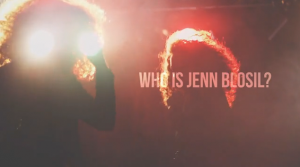 At about 1:38, Jenn really begins the heart of this video.  She discusses her humanity, that she doesn't have everything figured out.  She follows this up by explaining how music helps her – it is her 'solace' – and allows her to write about the 'deepest feelings of [her] heart'.  This is heavy, heavy stuff ~ it is an connecting point for every one of us (or at least every one of us that is human).  Notice that we have been given no idea of what her deepest feelings actually are at this point!
After dropping the emotional bomb, Jenn continues the narrative around the 2:19 mark by explaining her professional situation. She has had 'incredible' opportunities in the past year.  But they all came 'with some kind of catch' and she would have to 'compromise [the] integrity' of why she does what she does.  We don't really know any of the details, but this does not sound good.  We should help her!
She continues the emotional connection and then finishes off with the grand vision of what she is trying to accomplish:  'my music becomes their music and my story is their story' and 'take it to the world and go big'!  Has she inspired yet?  If she hasn't it's because you are reading my pathetic attempt to quantify when really you should watch the video.
…with a little help from the video production.
It is worth noting that the cinematography and music set the perfect ambience – a reflective, emotional tone that is present throughout.  This video wouldn't work without those major aspects being in sync.
PACKAGES
Clever package descriptions & good price points

This project wins points on both of these fronts.  To get a sense of the package descriptions, just take a look at these.  Personally, I can't wait to ask a hot babe on a hot date and then get a postcard high five from Jenn!
As for the price points, Jenn is clearly looking at this from the fundraising perspective and, as such, is assuring that the rewards themselves will cost little enough that plenty will be left for the project.  Music for $13, presumably a digital download, definitely has a good margin as does a friendship bracelet at $24 and a T-shirt at $47.
The only negative in this set is that she must not like playing house shows as she priced herself way out of the market by setting her private show package at $4976.  Whoa.  Something to reconsider for next time I guess.
THE TAKEAWAY
Before heading out to shoot your video, take some time to consider the things about yourself that you want your project to convey.  Being sure about this will allow your video to do its job with maximum effect and efficiency.  I know by the end of this video, I really did want to know the answer to Who Is Jenn Blosil?!
Also, don't be afraid to let your personality come through with the packages and BE SURE to create rewards packages that are desirable yet leave enough funds to do the job that you want to do on your project.