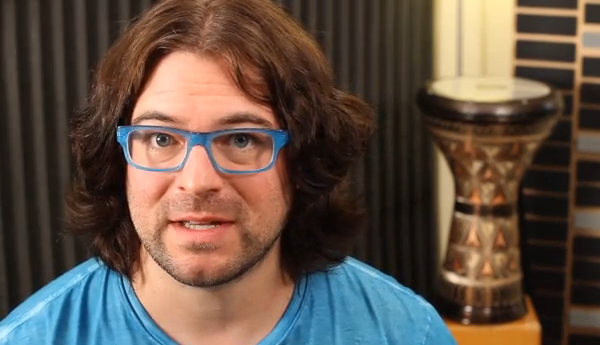 Your band's Kickstarter success is the result of the sum of many parts being done correctly.
Or at the very least, the sum of many parts not sucking.
It's amazing to Ian and I how much you can screw up many of these parts and still reach your goal. At the same time, if you get one or more parts REALLY wrong, you're toast.
Today I want to give you a small example of one of the most powerful (yet under used) elements of any Kickstarter campaign.  The Flex Goal. 
[divider top="0″]
THE FLEX GOAL: A STAPLE FOR ANY MUSIC KICKSTARTER
Lets face it.  If your Kickstarter fails, it's because your goal was too high.
Sure, there are elements of your campaign that, had they been better, would have helped you raise more money, but the simplest way for us to explain Kickstarter failure is that your goal wasn't low enough for present conditions.
[divider top="0″]
THE DEFINITION OF A CROWDFUNDING FLEX GOAL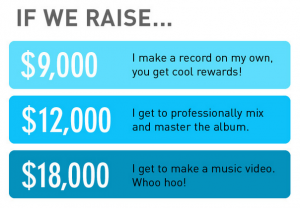 After determining your absolute minimum goal, state, at the top of your description area and/or in your video, two or more levels of funding and specifically what you'll be able to do if you reach each level of funding.
That's it!
You've just increased your odds of success by choosing the lowest possible goal amount. You also set expectations of raising a much larger amount by describing different tiers of success.
WATCH IT IN ACTION
Noah Hoen's project isn't perfect, but it's a great example of using the Flex Goal.  Here's a bonus example of our friend Matthew Moon's Kickstarter project. Matt was able to hit the second tier of his four tier Flex Goal strategy.[divider top="0″]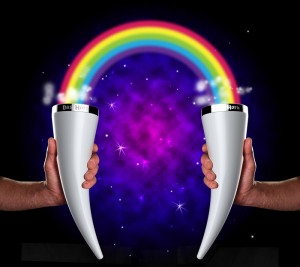 DAS DRINKING HORN!
P.S. Here's another bonus example for a non-music Kickstarter for "Das Horn" the definitive drinking horn!  Holy shit do I want one of these!  When you watch the video they show the killer horn stand BUT IT'S NOT AVAILABLE in any of the packages?!?!
Their Flex Goal in the description says: "If we meet our goal of $50,000 we would like to add a stretch goal of $60,000 in order to produce the Das Horn Stand for proudly displaying Das Horn on your mantle or shelf.  Help us climb this mountain and you'll be able to get this awesome Das Horn accessory."
What a great strategy for getting backers to take ownership in your project's success. View the Das Horn project.