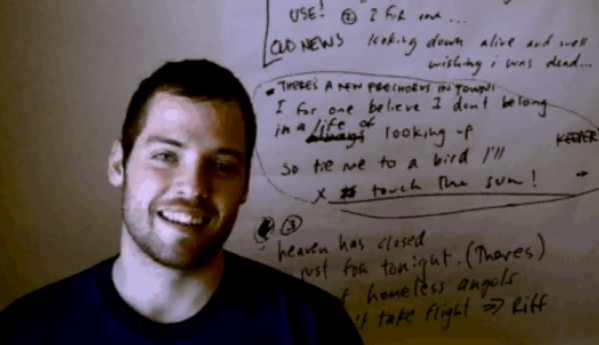 I was one of the first people (that I know of personally) to venture into a Kickstarter campaign (mid 2010). – Tyler Stenson
This guy had almost NOBODY to look around at for education and direction.  But he was successful and he was smart enough to do one thing really well.
Disclaimer:  I can't claim much credit for this profile.  I am cutting and pasting what Tyler emailed to me.  He's a smart cookie so there isn't much to add!
Add Limited Time Kickstarter Rewards To Boost Campaign At Midway Slump
I did have a VERY successful "mid-campaign" promo that went like this:

I needed $27 more dollars to reach $2,000 even.
So, I posted 'anyone who donates $27 (or more) in the next 24hrs gets a free digital download of ALL of my previous albums (3 or 4 albums in total).'
Given the specific dollar amount, within a specific time frame and offered a specific reward that wasn't already on the incentive list, I made it to $3,000 that day (meaning 33% of my funds came within that 24hr period).

Bottom line, it gave the procrastinators a good reason to act and, interestingly enough, most people rounded up to $30 or $50 even. It worked BIG for me (and for some others that I know of) … maybe not for everyone though. ~ Tyler Stenson
This is a cool and creative idea.
That being said, I have heard from a few other musicians with successfully funded projects that tried this with very little success.
I suspect the key to pulling this off lies in 1) knowing your fan base and creating an enticing reward and 2) communicating the specifics (like Tyler said in his last bullet) to your fan base in a broad manner.
Almost Three Years Later:  Tips From Tyler On What He'd Do Different
Tyler: MY VIDEO … my video was very matter of fact. If I were to do it again, I'd spend more time on a creative angle; one that was more visually stimulating and, therefore, more likely to be "shared" by my fans to their friends. Bottom line, my video was rather dry and information-heavy and, as a result, it didn't have much viral-worthy eye candy.
Ian:  Definitely need a video that will connect to people and appeal to their emotion (Purpose Worth Backing/Personal Connection).  Whether or not it goes viral, it needs to do its job with your current fan base.
Tyler: MY GOAL … I had absolutely zero clue of what to expect so my fundraising goal was overly humble. While it covered my basic costs, knowing what I know now, I would have aimed much, much higher. In retrospect, based on the proven loyalty of my followers, my goal of $3,500 seems like peanuts compared to what I've seen other bands raise … and what I now KNOW I could have raised.
Ian:  Sounds like the perfect place for 1) knowing the appropriate scope and quality of your project and 2) a well-thought-out flex goal!
Tyler: MY DURATION … I did a 63-day campaign (it made sense at the time because I started on an arbitrary date in late May and wanted the funds for August 1st). Knowing what I know now, I'd run a 30-day campaign. Nothing more. People are procrastinators by nature and they're either going to donate or they won't — dragging it out any longer than 30 days was a waste of breath and a drain on my self-esteem (as I was essentially "begging" twice as long as necessary).
Ian:  Fortunately, I think most have learned this lesson.  Given how hard the work is, it would be mentally and emotionally exhausting to do it for much longer than 30 days.
Tyler: MY INCENTIVES … I would have made my incentives a bit more dynamic. In all, mine were pretty rudimentary and "expected" but I've seen some highly creative incentives since that, if implemented, I think would have drastically increased my average pledge. To be clear, I wouldn't have added "more" tiers necessarily, because I think too many tiers can be intimidating, but I would have built-in more distinctions between the tiers. I think each tier should have a totally unique incentive (aka identity), so people say "THAT is the tier for me" … not because it fits their financial comfort level but because it speaks to them and offers them something that benefits them personally.
Ian:  The Big 5 plus great mid-level packages!
Tyler: SHOUT OUTS … I would have given more social media shout outs to my donors — partly to publicly thank them (and make them feel all warm and fuzzy) but also to spread the word to their friends. By tagging them in a FB post and/or tweeting about them, their friends will see the interaction and be exposed to the campaign that they might never have heard about otherwise. Also, when someone is tagged, they might feel extra inclined to "share" that post and encourage their friends to act.
Ian:  I hear it over and over:  personal interaction and communication.
Tyler: That's it from me — like I said, I would do everything differently 🙂