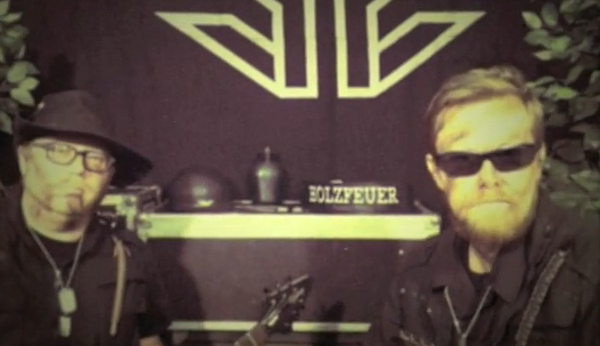 No big thang' today.
Just gonna write about The Greatest Band of All Time… at least according to their Facebook page.
I'm not exactly sure what qualifies ArnoCorps as the greatest band of all time, but I gotta say, I don't think I'll argue.  I'm pretty sure these goddamn bastards will kick my ass if I do.
Masterful Language Includes Readers In Project
One of my favorite things about this project:  their language.
But between all of the GodDamn's, bastard's, shit's, and ballsy's… these guys are some smart mofo's, check out this section of their project description:
CALLING ALL GODDAMN HEROES AND SHEROES! The time has arrived! We're hitting the studio to record The Fantastic EP this February, and this time we're leaving it in the hands of the fans to determine our ballsy budget for the production and engineering efforts of this heroic endeavor!

While we've enjoyed the advantages of being on record labels in the past, ArnoCorps has now chosen a path of autonomy and independence to enhance heroic community participation.

Experience has proven that whenever we get the fans directly involved in ArnoCorps' fate, fantastic things happen. By creating a direct link with the band, the global community of fans will have direct influence on how we proceed in our mission…
If you were a fan, would you have some skin in the game at this point?  Hell, you may anyways!
This language provides a Purpose Worth Backing and, at the very least, an implicit Call To Action, both critical elements of successful Kickstarters.
Time For A Stretch Goal
I am writing this on the 9th day of ArnoCorps campaign.  At this point, they have already surpassed their goal amount by 50%.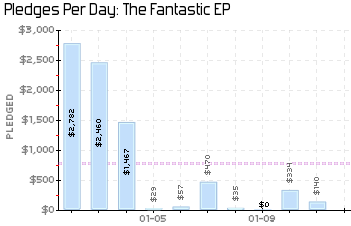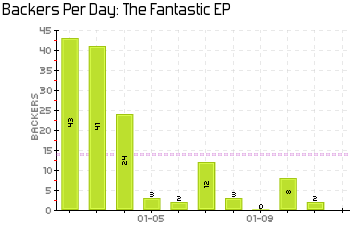 Their campaign fully funded within the first 3 days of launch!  Check out the graphics from the good folks at kicktraq.com.
Those are some fantastic numbers!
But, predictably, things have fallen off since the beginning of the campaign due to the normal mid-campaign slump.
I noticed on ArnoCorps' Facebook page that they "can still use extra backing for pressing, packaging, posters, t-shirt productions and all this!"
At this point, there is no stretch goal on their project page, but I would strongly suggest one.
This band has a very supportive and ardent fan base.  ArnoCorps needs to keep them engaged and not let them get complacent because the goal has already been reached.
Do this by supplying a stretch goal with concrete numbers and concrete actions to take with the extra budget.  For example, $500 for T shirts, $1500 for shipping, $1000 for an extra song, etc…
Providing additional incentives may be effective here as well, possibly giving backers who up their pledge a free song or can coozie or maybe giving all backers a free song if the stretch goal is met.
THE TAKEAWAY
Take advantage of the project description area to communicate your Purpose Worth Backing and deliver a solid Call To Action.  Honestly, I can't overstate the importance of this.
And when your project blows past the fundraising goal within 3 days of launch, get those stretch goals out there and keep marketing your project.  You could end up with a budget that gets you closer to your dream project than you ever thought possible!
Holzfeuer From ArnoCorps On:  First 3 days, Stretch Goal, & Community (How ArnoCorps Views Their Fans)
I was fortunate enough to hear back from ArnoCorps and, let me tell you, Holzfeuer and the boys get it.  Read this for valuable insight.
Ian (L&R):  To what do you attribute your success in the first 3 days; how did you handle your initial marketing?
Holzfeuer (ArnoCorps):  After we set up the kickstarter page, we posted the preview of it on Facebook to get feedback from the fans. The response was fantastic! Nobody was able to pledge yet, since it wasn't live, but we received useful feedback on what kinds of rewards they'd like to see that weren't already represented. This prompted us to make a few changes, such as adding exclusive heroic t-shirts and all these kinds of things. After our web guy's amazonpayments account was finally approved, we were able to go live with the project a week later. Since there was already some anticipation for that period of time from posting the preview, people just jumped on it right away after it went live. We reached our listed $5,000 goal in just over 24 hours!
The Facebook postings were through our official Facebook page, plus the individual band members' Facebook accounts. We didn't buy ads or use Facebook's "promote" feature. We found that it was shared extensively by the many heroes and sheroes who listen to ArnoCorps and got highlighted on a few blogs, as well. Our kickstarter project currently has over 1,300 facebook "likes", which seems pretty high compared to other projects of this scale.
Ian (L&R):  Are you considering a stretch goal? If so, what does that look like?
Holzfeuer (ArnoCorps):  We had a stretch goal in mind of $7,500, but before we really got down to business to make that happen, we passed it already!
Yes, we can definitely push it a little bit more, just like pushing out one more rep of heavy squats, let me tell you. We've been laying low and putting attention in other areas since reaching our "real" goal of $7500. Our plates are very full right now writing music and interviewing potential producers, looking at studios, etc, so the kickstarter has taken a lower priority.
I admit, it was a surprise to most of us how well it did! We'd never attempted this sort of funding, so didn't know what to expect. We actually haven't even emailed our heroic mailing list, yet! At this point, we just want fans to know about it because it's the only way they'll be able to get some of this stuff, and the digital download is cheaper now than if they wait. We genuinely put fans first, unlike most bands!
At this point, I'd rather make use of our fans' generosity on other ballsy and heroic projects down the line, rather than pushing this one too heavily.
Ian (L&R):  Any other thoughts or suggestions at this point?
Holzfeuer (ArnoCorps):  I think it's important to see kickstarted projects as more than simply advance sales or fundraising. We approached this as an opportunity to strengthen the community type of connection we have with our fan base, to let them be directly involved in our fate.
We did our best to present it in a way that the fans saw it as an opportunity, as well. They're effectively determining the budget we have on the next CD, which also determines our overall approach in the recording process.
For example, our first album was recorded live because we had a very low budget. Then our next release had more money behind it. The quality of recording is very apparent. Our fans got behind this new project, setting it up to be one of the best things we've ever released, and it's directly because of their faith in us and support of what we're doing, and their excitement about being involved.
Can you imagine how much we're in heaven? We don't think of our fans as customers or a demographic. They're an integral and essential part of ArnoCorps' existence.
Ian (L&R):  F—ing awesome, you ballsy stud!