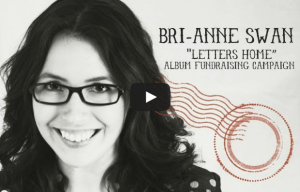 Trying to set your official music crowdfunding goal can be a nerve-racking experience.
And because many musicians have no idea how much they can successfully raise, they shy away from Kickstarter's All-or-nothing model (where you won't receive a penny until you hit your goal amount) in favor of Indiegogo's Flexible-funding model where you keep what you earn no matter how it compares to your goal (thought at different commission rates).
I've already shown that Indiegogo's Flexible Funding Can Kill a Music Crowdfunding Project but a reader recently wrote in demonstrating that it IS possible to achieve success using flex-funding.
Bri-anne Swan ended her successful "Letters Home" campaign on Indiegogo last month raising over $11,000 (that's Canadian dollars, eh) beating her $8,000 goal.
Here is her story in her words…
Indiegogo's Flex Funding Was The Only Option
I totally read that article (on Why Indiegogo's Flexible Funding is a Music Crowdfunding Killer) just before I launched…

Doing flex funding wasn't at all my first choice but I felt a little bit cornered by when I needed the funding. I am pregnant with my second child, and need to start recording (particularly the vocals) in June so I can get the project done before the baby comes and get the vocals done before the baby is so big that I can no longer breathe properly.

Kickstarter wasn't going to be able to get me the funding in time, and isn't very Canadian friendly anyway.

Indiegogo obviously has fixed and flex funding. With the fixed funding, there is a delay between when your project ends and when you receive the funding, and it was looking like I wouldn't necessarily be able to have it in time. So, I went with flex funding because the contributions are deposited into my PayPal account instantly.
Approach Your Goal Strategy As If It's All-or-nothing
I decided that even though I had to go with the flex funding, I was going to proceed as much as possible as if it were all or nothing.

I knew I couldn't do a record without an additional $8,000 to add to the personal funds I'd already committed to spending. And I let people know that, "If I don't reach $8,000, I can't make a record."

Because I knew I couldn't return the money once it was contributed , I did have a backup plan where I could release an EP. But that's not what my supporters wanted, and I was really pushing for a full album, and I couldn't do that without their support.

I also created the exact same funding goal I would have went with had I gone with a fixed funding campaign.

It was so amazing to be able to announce that we smashed the first goal in less than 24 hours of officially launching.

There was quite a bit or "pre-loading" my people in the four days prior to launch, but the momentum created by hitting the goal so quickly has been helpful.

Thanks again for all the great resources (I'm pretty sure pre-loading my people has made all the difference in the world).
To Succeed Wildly, Ignore The Keep-What-You-Raise Mentality
Flex-funding itself isn't the villian.
The problem with flex-funding is the oft-occurring psychological byproduct of  people getting lazy and/or not taking their campaign as seriously.
If you treat your campaign just as seriously by featuring your Purpose, Vision and Mission…
And if you contact people relentlessly as personally as possible…
And if you employ a solid flex-goal stragegy…
Then you should be able to raise just as much as if you use fixed-funding.
But Use Flex-funding At Your Own Risk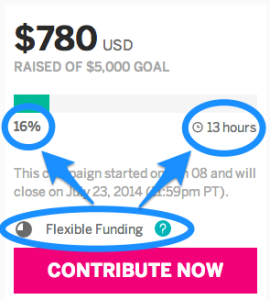 If you've chosen flex-funding, then you've at least implicitly decided that you're okay with whatever you get.
From our own personal experiences and observations, the temptation to quit and get lazy mid-campaign is always present and Flex-funding makes it even easier to let yourself slide.
And it follows to reason that this is why *most* flex-funding campaigns finish weak and miss out on the opportunity that comes with the last week as well as their overall goal in general.