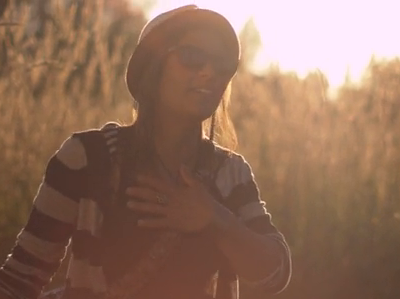 Now here is a project whose success has surprised me…
Neva is a singer/songwriter from California and is looking to make a killer 2nd album featuring a full band. She put together a nice little Kickstarter to help make it happen. So what is so surprising?
I looked at this project with about 2.5 days left at which point she still needed to raise close to $6,000, about a third of her funding. This seemed like a big gap to overcome! I conversed with Neva, who was plenty nervous about closing the gap, and discussed what to do in the last few days…
Now, I'm not going to take credit for her success. That was all her! But what she did was simple and effective and is a good lesson for all of us… AND it helped her raise over $19,000 (THAT'S NINETEEN THOUSAND DOLLARS Y'ALL, YEEEEEHAWWWWWW!). So what did she do?
Simple: she used her contact list to ask her fans for support. She gave a clear Call to Action (CTA) and was open, honest, and transparent.
+ STEAL THIS

Video Cinematography
Use email list
Be confident

– FIX THIS

List out all items in reward packages
Clear Call To Action in project description
Use Low Road/High Road strategy for Goal Amount
// VIDEO (3 min 28 secs)
This is a video whose purpose is very straight forward: tell the fan who Neva is and what she is trying to do. There is nothing fancy about this approach and if you do it, you had better do it well or it will lose attention. Neva did two things well with the video:
1) the cinematography is gorgeous, using nature and the sun to create alluring images of Neva while she explains herself and her project. If she had done the exact same thing while sitting on a chair, chances are very high that I wouldn't be writing this today!
2) an ending that prominently features the CTA: DONATE TO NEVA'S KICKSTARTER. That is a best practice, y'all. Learn it, live it, love it! YEEEHAAWWWWW!
// PACKAGES
Uh oh, buzz kill… Please, DO NOT use "all of the above plus".
L&R Best Practice: list out all rewards in each package clearly
Seriously, take the time to do it, folks. Leave no opportunity for confusion. Also, though it takes longer when setting up the page, this shows respect for the fans' time by allowing them an instant understanding of each package while reading it – no need to refer back to above packages.
One other thing: it is always important to consider not only the cost of a package to the fan, but also the cost of the package to you. For $15, Neva gives a pre-release digital download. Wonderful. For $30, she gives the download plus the physical CD, a koozie, and stickers. For $15, she gives goods whose cost to her is probably around $5 plus shipping of a couple bucks. Ultimately, this leaves maybe $7 to go toward her project. Consider bumping this package to $35. A similar logic may apply to the T-shirt at $50.
Remember, it all depends on your cost, so always do the math!
// PROJECT DESCRIPTION
I really like Neva's subheadings here:
How much money will I need and where will it go
What will we get in return for our kind donations?
When will we receive our rewards?
Why should we support you?
Add one: how do we support you? Folks, I've said it before and I'll say it again: don't forget a clear call to action!
// GOAL AMOUNT
Taking a project from just singer-songwriter into full band territory definitely increases the budget! Neva accounts for this which is fantastic but here is what she had to say about her goal:
The scariest part about hitting the launch button was probably the paranoia that I didn't pledge the right amount. IF it was too low, I wouldn't be able to follow through with everything that I promised. Even though I did the math and had a spread sheet going, a project that's as involved as making an album along with merch and all other costs can really fluctuate at so many different points. There are so many variables. And then of course if I pledged too much, I may not make my goal….
Smart move: using a spreadsheet! Like I said above, do the math and be sure!
Tip: use the low road/high road approach to goal. Nail down the cost of the singer-songwriter album. Make it (along with rewards fulfillment) your official goal. Then, figure out the cost of a full-band album. This is your unofficial goal. Clearly state your unofficial all along and work towards it. This removes some risk and, certainly, some nervousness from the project.
// CIRCLE OF INFLUENCE
Here is where she pulled it off… Neva has a mailing list of 350 along with a Facebook network of about 1500. Initially, she was mostly using Facebook and letting the rest slide.
Artists, I know it is tempting to do that. Facebook is sooooo much simpler to use than getting emails out. But the value proposition of email is there, click here to read why!
As I said above, Neva needed to raise around $6000 in the last two days of the project. AND SHE DID IT with a spike of 74 backers in the last couple days of the project. This is out of 215 backers total. ONE THIRD of her backers came in the last 10% of her project! How did she do it?
She used her contact list to ask her fans for support. She gave a clear Call to Action (CTA) and was open, honest, and transparent. Here is my correspondence to Neva with about 2.5 days of her campaign left:
Keep pressing, keep contacting your peeps, be clear about what you need and what they should do. USE YOUR EMAIL LIST! Don't be afraid 🙂 Ask your fans to support you TODAY and even ask current backers to consider the next pledge level!

Continue to stress that the project doesn't happen without fans participation. Fan participation is the best case scenario, is likely to provide the best product (power of the group) and is no risk for the fan. Their only risk is in not participating as they may never get the product they want!… Do not be afraid to encourage your fans to back you. That is a huge aspect of the artist/fan relationship.
// THE TAKEAWAY
This Kickstarter project was obviously a HUGE CHALLENGE and left Neva no shortage of nerves, I'm sure. She confidently laid out her vision and worked toward her goal. When things got tight at the end, she dug deep, believed in herself, made the final push and made it happen.
For anyone contemplating a Kickstarter project, take the lessons in this project to heart. Be confident, use your email, be inspirational. Always remember a clear Call to Action and always make it easy and straight forward for the fan to participate!