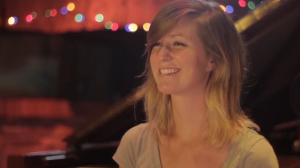 Rebecca is a singer-songwriter from Nashville, TN, working on her debut EP called Fields. In doing so, she has stepped straight through the door into the Launch & Release Kickstarter Hall of Fame! This project is practically a template for how to do a Kickstarter ~ read on!
[button link="http://kck.st/PSOG3q" color="teal" window="yes"]View This Project[/button]

Video (2 min 20 secs)
Readers, I hope you have watched this video and looked through the project. If you have, you already know that this video is solidly produced and that it capitalizes on the emotional and relational aspects of the artist/fan relationship. Rebecca nails it when she says:
making a record still needs to feel like the first time you played it
I love that she implicitly acknowledges the fact that music is art and art is not a formula. She goes on to connect the dots between herself, her music and her fans by discussing 'this journey', 'watching something become the best version of itself', and 'people are just looking for a mirror when they listen to a song… the just want something to connect with'.
Rebecca understands her role in her fans world and does an excellent job of communicating that which gives the potential backers an instant connection point to the project. Well done!
Rewards
The big 4 are included in her rewards package at very reasonable prices: digital download, CD, tshirt, and house concert. Good job there. But while this project is THE BOMB overall, there are areas to improve here.
Number one: list out each and every item in each and every reward package. By the time I was further down the package list, I couldn't remember what "The Soil" was. Yes, I'm forgetful by nature ~ No, I'm not the only one! Don't make people work here, spoon feed them. Nothing cute, just straight forward. Find and replace "the soil" with "digital download plus physical CD".
Number two: double check the package price points. Digital download at $4 (what a bargain!). CD at $10. That is a $6 spread. The CD will cost about $2 and shipping will be another $2 at least. Of the $6 marginal price, she will recoup about $2. Not as good as one might think. If your project ONLY funded through this package, you would have $3600 to record, mix, and master the project ($4 DD + $2 margin for 100 backers). BE SURE THIS WILL DO IT!!!
The same can be said for the T-shirt package at $25 and the T-shirt/poster package at $30. If you are creating a project, do the math and be double sure! (Full disclosure: Rebecca has likely addressed this!)
Project Description
I have been gushing about this project but I haven't even hit the BEST part yet! Are ya ready?
NAILED THE CALL TO ACTION!
This project is the new Poster Child for Call To Action (CTA)!
Right away in the project description blurb: "Help her finish and release it!"
Within a few paragraphs: 'Step 1: Check out packages' & 'Step 2: Make your pledge'
How to be a Part (step by step instructions) – this is more or less a cut & paste!
I cannot tell you how great it is to see this. Kickstarter Jockeys, hear me now! Use this project as a template for your Call to Action!!!
Bonus points for use of images (though I'd like to see the shirt – she says it's pretty rad) and a solid Thank You to backers.
Goal Amount
I am going to assume that Rebecca's goal amount is appropriate. It seems in line with the cost of an EP plus she seems to have done her homework:
Biggest challenge in hitting launch: making sure all my ducks are in place beforehand: – consistent brand across all social media – creative reward tiers – assessing appropriate reward tier pricing – budgeting and projected budget estimation – compiling email list several months in advance – researching other projects
So far, Rebecca is in for over $6,000 (THAT'S SIX THOUSAND DOLLARS Y'ALL, YEEEEEHAWWWWWW!). Congrats, Rebecca!
That being said, Rebecca has an opportunity to throw down the hammer here and she may be missing it. She is half-way through her project and successfully funded. She has prepared for success by introducing a Stretch Goal (an L&R Best Practice). Her stretch goal is $10,000. The extra $4,000 will cover initial costs of her Fields EP (presumably self-funded at this point) and anything extra will go toward the 2nd concept EP, Forests.
I am an economist. I believe in the power of incentives and I believe that consumers in the marketplace will react rationally to incentives. This is simple classic Economics 101 stuff. The incentive I see here for the consumer/fan/backer is to be nice and that's about it.
MAKE A CD!!!
Perhaps because Rebecca has always envisioned 2 separate concept EPs, she doesn't see this, but I sure do! You have raised $6k in 15 days. Your best days may be waiting for you in the last couple days of the project. Shoot for the moon, make a CD! This makes sense! Hear me out:
First, FIELDS and FORESTS. Am I crazy or is this an album concept throwback to the glory days of vinyl?! FIELDS on the A side and FORESTS on the B side. Or in modern terms, tracks 1-6 and 7-12 or whatever your tracks are!
Second, I don't know what FORESTS will cost, but let's say it is the same as FIELDS. If you double up your goal, isn't it logical that you can double up your project? And the thing is, Rebecca can do this! She has the potential to MORE THAN DOUBLE her goal. Heck, as of writing, if she just got her current backers (184) to put in $5-$7 (or $10!) a piece in order to go from an EP to a CD, she would have close to $1,000-$1,500 (or $1800!).
This is more than I normally allow myself to speculate, but we here at Launch & Release have been watching a lot of projects and this funding scenario is happening folks!
Circle of Influence 
Ah, the Circle of Influence… Rebecca has a solid basis for contacting her circle in 1300 emails and 3200+ FB friends. She is a pro at the CTA. She sent out an initial email and plans a 1/2 way follow up and a final home-stretch email. She should email at least twice (her plan) if not 3 times and pound away at her CTA as well as create excitement based on her current progress and her Stretch Goal(s) for the project.
The Takeaway 
AWESOME PROJECT! Artists, take note! Somebody take away my exclamation mark key, I think it's stuck!!!!
Rebecca really set the bar in many ways. She prepared extensively, communicated her vision of artistry, set up an emotional connection point for backers, and NAILED the Call To Action like a BOSS! Now is her moment to let this Kickstarter shine and to carry her vision forward!