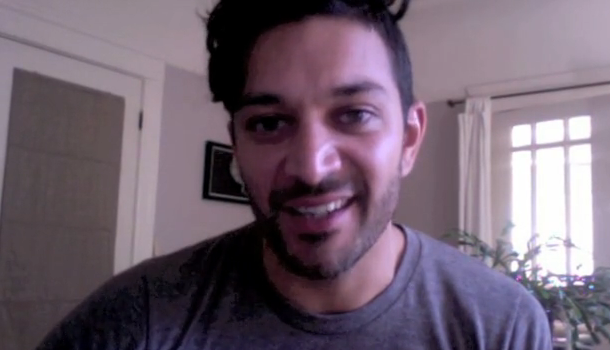 Assuming you've got the Circle of Influence component of your Kickstarter project completed, your next step is to maximize the potential of those existing human connections.
Key take-away: the next step is NOT to come up with a mega awesome viral strategy and amazing video production.
This is the single biggest cause for procrastination or even…gasp…never launching your project.
No. The key, my friend, is focusing on the 20% of your effort that leads to 80% of your results.
The project we're about to look at proves that launching your project is better than perfecting it until you're blue in the face.
VIEW PROJECT |  GOAL $8,000  |  30 DAYS  |  EMAILS 0  |  FB 164  
This Video Sorta Sucks, But Who Cares!
In a previous post I showed virtually the same phenomenon: As it turns out, your video can totally suck if the message is clear.
This project's video is so bad that it actually boarders on distracting from the message.
It starts with a full minute and twenty eight seconds of completely random footage that has NOTHING to do with this project. Luckily Krishan starts talking very honestly and sincerely to the camera and brings the viewer back to the objective which is to relay emotion, purpose, and story.
Phew!  That was a close one.
Focus on Your Rewards Strategy for Maximum Crowdfunding Results
We've seen that if your personal connections exist, your Rewards Strategy is where you should focus your attention next. A crappy video hardly ever appears to be the cause of a failed music crowdfunding project yet it seems to cause the most stress and take the most time for project creators.
(Kickstarter Graph curtesy of now-defunct CanHeKick.it)

Here's the 'Should We Run' Kickstarter Backed Rewards Breakdown:
$5 – "good vibes" (3 backers – $15)
$10 – Digital (15 backers – $150)
$25 – Signed CD (21 backers – $525)
$40 – Vinyl + CD (4 backers – $160)
$50 – Worldwide Vinyle + CD (5 backers – $250)
$75 – Shirt + Tote Bag + Digital (5 backers – $375)
$100 – Handwritten Lyrics + Vinyl + Download (4 backers – $400)
$150 – Care package + Vinyl + Download (1 backer – $150)
$300 – Custom Song (1 backer – $300)
$500 – 2 year VIP shows pass (1 backer – $500)
$2000 – Private Show (1 backer – $2000)
TOTAL: 61 Backers Pledged $4,825 – of 18 rewards, only 11 received pledges
This shows us that 18 pledges didn't select a reward and that this project received $5,375 in over pledges or backers who didn't select a reward. In other words, someone selects the $40 level but gives $100 or someone gives $200 but doesn't want a reward.
The Takeaway
What we've seen here is that your rewards should be what take all of your time and focus. The video should just reinforce the emotion, purpose, and story of your project even if you have some random photo collage with a laptop video of you talking for 45 seconds [insert smiley face].
As my wife always says to me "check yourself before you wreck yourself". It always gives me a good chuckle, but the point is clear: If you let your imagination get out of control, you can easily find yourself creating a logistical nightmare of grand schemes, "viral concepts", and time wasters that divert your attention from the 20% of the things you could be doing to get 80% of your desired result.
Keep it simple and focus on your personal connections. Now go get started!