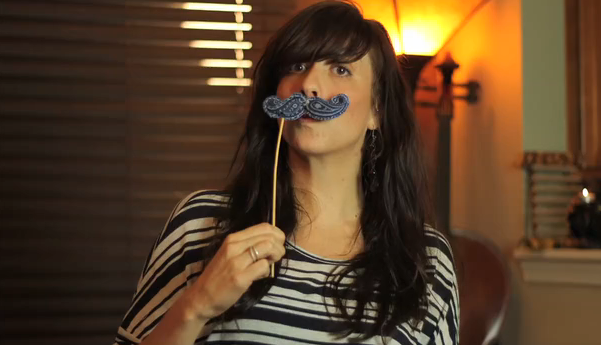 I mustache you a question…
Are you a quirky band or artist?
If so, you will especially want to pay attention today as we profile Sarah Clanton Schaffer.  Her Kickstarter  is a fantastic example of how to let your personality shine through and dictate the content of your Kickstarter.
Even for those not quirky, however, Sarah provides some solid tips on how to craft your Kickstarter.
[divider top="0″]
PERSONALITY STAMPED ALL OVER IT
You do not have to view this Kickstarter for long before you realize that, beyond any doubt, you are getting the real Sarah Clanton Schaffer.  It is so apparent that it seems like it must have taken very little effort because it just all comes naturally for her.
Not so fast…
Sarah Clanton Schaffer:  It took me a good two months to get my project ready to launch. It takes time to make sure you are communicating the right message and all that fun jazz. I was anxious before hitting launch because….it never feels ready.
A Quirky, Effective Video
Seems ready to me…
As you dive into the video, you will notice that it has several key elements:
funny and

attention grabbing

"skit"
uses road footage to share her life…

honest, sincere

.
presents her

vision

of sharing work, engaging people, and creating community
gives the

Call To Action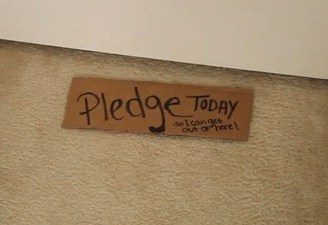 It's a simple bullet list, but each is crucial to creating an effective video.
If you are working on your Kickstarter or will be soon, learn from Sarah.  Don't hurry into things and be damn sure that you are communicating what you want to be.  Sarah also had this to say regarding quality assurance:
SCS:   Get just a few close trusted folks to look at your ks project before you launch, its always good to get some perspective on your delivery.  I just worked with two or three people I trusted with successful KS projects to help me edit.
THE TAKEAWAY
Creating Kickstarter content based on your personality seems like it would be a no-brainer.  But you still need to assure that it does what it needs to do and communicates what you want it to.
Take your time while creating your Kickstarter.  Review it yourself as well as consult trusted eyes for feedback on your project.