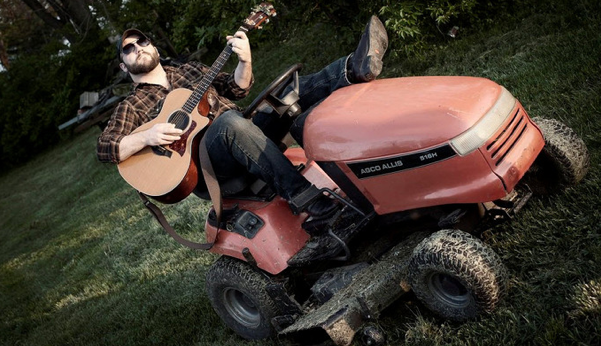 Full disclosure…
I am a farm kid from North Dakota.  I love tractors, dirt and drinking beer.  I will tell you that my experiences there are the essence of my soul…
So, it may come as no surprise that I LOVE Danny Grause' Kickstarter, a concept album/DVD project inspired by and documenting the state of Iowa.
Now, I understand that it is just maybe possible that you are not a farm kid.  But stay with me and see if you agree on my take of a great Kickstarter project design…
[button link="http://kck.st/S8Z0Uq" color="teal" window="yes"]View This Project[/button]
A VIDEO AND PROJECT DESCRIPTION SET TO INSPIRE
It is clear that Danny has something in mind from the moment you step into this project.
Video Flow and Purpose
The video employs the cheesy classic approach of layering and progression.
Start with a quote relevant to the project.
Deliver a monologue coupled with artistic cinematography, build anticipation.
Cue the music and Give the mission (i.e., the purpose worth backing).  Preach it, brother Danny!
It is also worthwhile noting how Danny reaches out to the viewer by saying things like:
let the viewer join me on the journey,
you'll get to see the whole thing from the inside out, and
you will have the opportunity to help me produce the first web show and CD project of its kind.
Reinforce in the Project Description
The sentiment established in the video is reinforced in the project description.
Danny specifies what he calls mission and what we call purpose – capture the spirit of Iowa.
He aligns his project with a cause – Iowa and, particularly, its economy.
CREATE A GOOD DISTRIBUTION OF PACKAGE PRICE POINTS
This project is a little different than most we do around here:  it intends to deliver a fully produced DVD in addition to the music.  Sounds challenging and NOT cheap. You can tell that Danny's rewards packages reflect this fact.  The prices push up into 3 figures really quickly.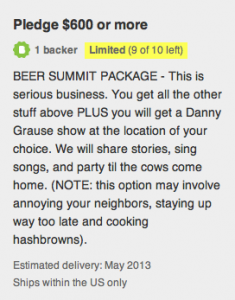 You can also tell that Danny has a great awareness of Iowa and, certainly, a sense of humor about things.  He could easily spend a little time capitalizing on this by presenting some creative packages in the lower pricing tiers that give more choice and access to potential backers.
If you are creating a project, be sure to give an adequate selection of rewards packages for under $100.  Remember the Digital Download.  Maybe throw in some beef jerky.  Price your T-shirt reasonably ($200 seems a little steep).
All of that being said, Danny does have one of my all-time favorite packages available…  The BEER SUMMIT PACKAGE!
BE READY BEFORE HITTING LAUNCH
I had the chance to interview Danny and he did have some very sage advice that I need to share before getting out of here.
Danny Grause:  I wish I would have started planning a little sooner… Another big piece of advice I have is to THINK CONTINGENCY and have some stuff "in the can". You never can predict if your idea is going to "hit" or not and you need to think of some different angles and have them ready. You will be hard pressed to create stuff midstream. For example, my video is more serious and nostalgiac/inspirational, but I've also prepared stuff that's more cheeky and funny. Different things will appeal to different people. Be prepared to adjust as you go.  My only other advice is to start with a great idea and then wittle it down to what you can realistically pull off and always keep your eyes open for opportunity and new ways to spread the word.
THE TAKEAWAY
This is a fantastic artistic concept.  Kudos for that, Danny!
The project is strong in vision and in connecting to the fans.  It is a great example of one way to produce an artistic video that reaches out to the audience.
On the flip side, the reward package selection is a little thin in the lower tiered pricing.  Remember, just because you have a great concept doesn't automatically mean people will be throwing mad cash around!  Be sure to provide creative alternatives.